The get-to-know-you "all ages" party game
Storyology® is an engaging turn-based story trading game. Spin the disc. Tell a story. Quiz your memory. Share some fun!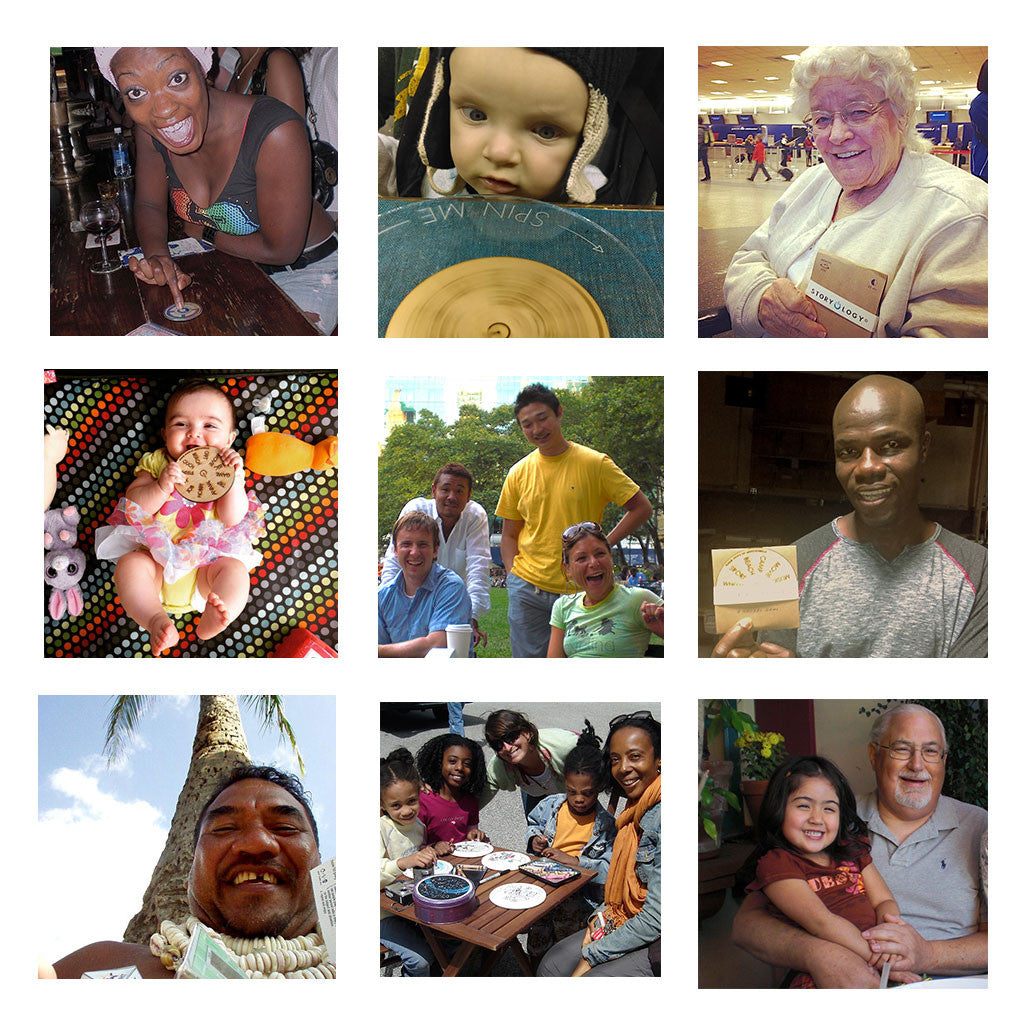 What is it?
It's the gamification of socialization anytime anywhere! This handmade wooden disc is a perfect game for icebreaking. It spins like a top and will help choose a story topic and much more. This simple disc will stir up any crowd into a laughter filled listening contest, aka "the memory showdown!!!"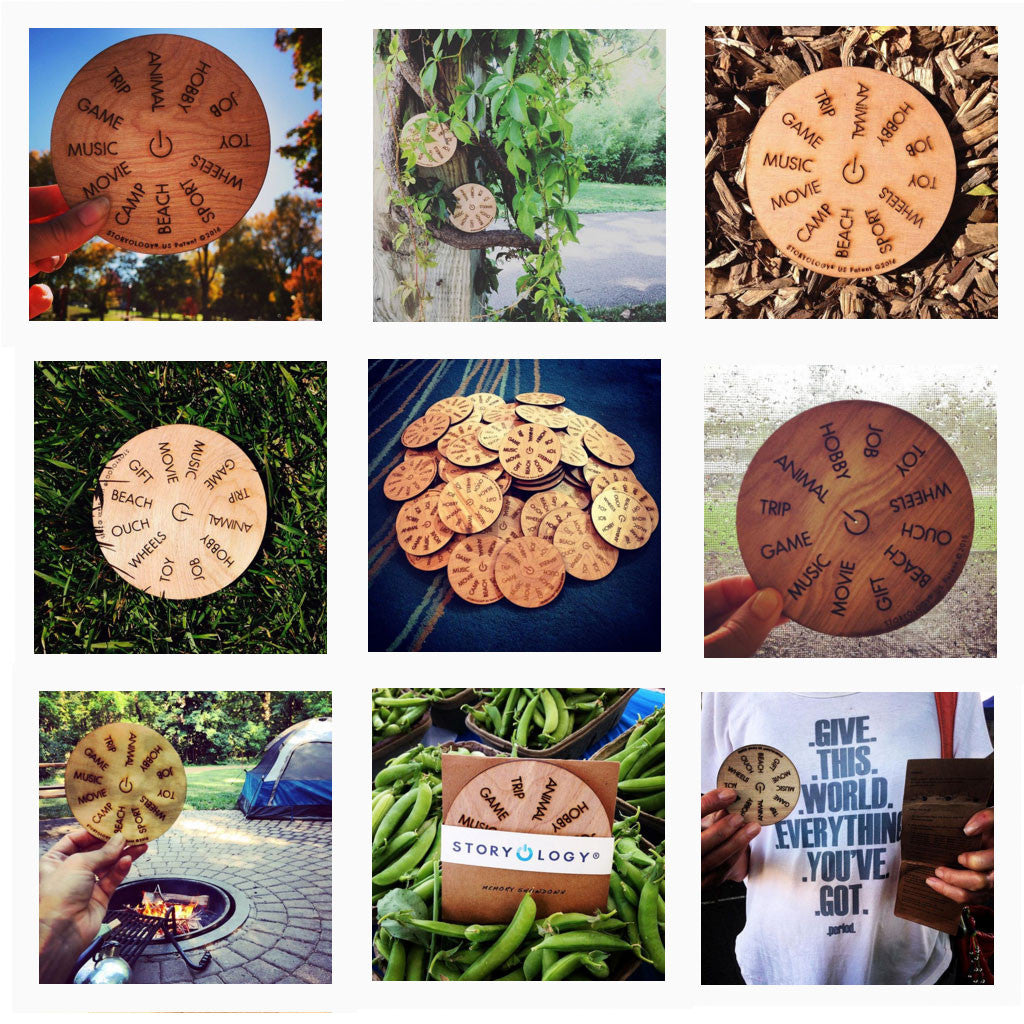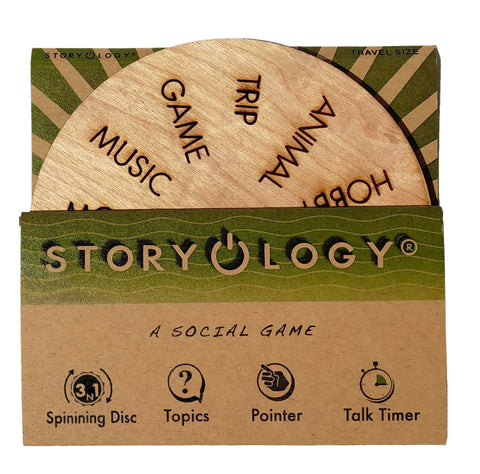 Regular price $ 14.99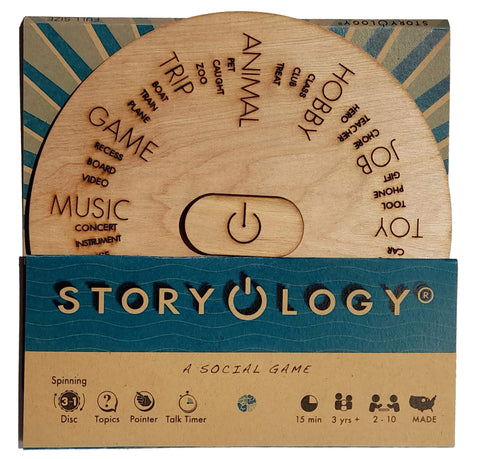 Storyology® Full Sized Table Game
Regular price $ 29.99
Features
15 Min

Warm up any dinner, date or meeting.

2-10 Players

turn on the conversation, parties of any size

3yrs & Up

A game loved by both the young and the young at heart.

Natural

Made of wood, wrapped in paper, expect variations.
FAQ
What is it?
Storyology® is a patented story-trading game and listening contest, for anyone, any where...
Target Audience

Ages: 3yrs -108 yrs (tested)
 Time: 5 mins - 2 hours (depends on the size of your group)
 Size: 2-10 players per disc ( more discs only required to shorten game times )
Product Specs

Travel Size: 4.2"- 
1 oz. 
- (twelve subject spinning disc
) Table Size: 8"- 5oz - (forty-eight topic disc). Laser etched and cut from assorted plywoods
, handmade, printed and packaged in Minneapolis
Recycled Package Specs
100% post consumers paper instructions are wrapped around each of the game discs as a package
How was it created
Storyology® is invented to be played anywhere. Consider this disc an open-source games-for-learning tool, well suited for any social event.  All you need is a disc and a group of humans curious enough to share some time over their similarities.  This game was created one very hot summer in a legendary garage on the wake of a long adventure. It was played weeks later with a small group of friends at a homecoming brunch.  Since that summer 1998, the collective list of creative contributors responsible for the concept of this activity looks like a film credit roll.

 Thank you to all of you for your time, memories, laughter, insight, encouragement and of course your comfy couch sleeping accommodations. 
What is your contact info
Call: 612-460-0662 Email: hello@storyology.com